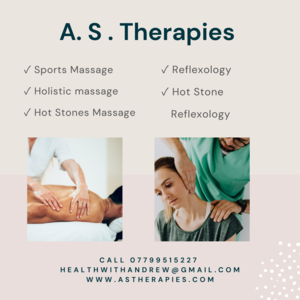 Andrew Stevenson Sports and Holistic Massage and Reflexology Practitioner Derby, Nottingham and surrounding areas.


I qualified as a Reflexologist and Massage therapist in 2005.
Originally gaining my qualifications through the AoR (Association of Reflexologists) and over time I have undertaken further qualifications and started my practice in Derby spending time supporting local sports teams and individuals, and have expanded the practice not only to cover Derby but also the areas surrounding Derby.

Using these skills (Reflexology, Hot Stone Reflexology, Holistic Massage, Hot Stone Massage, Sports Massage (Deep Tissue) and Remedial Massage alongside the use of KT Taping ) I have gained as a massage therapist and reflexologist, and using a combination of these treatments I have supported both people active in sports and non sports persons around the Derby, Draycott, Belper, Borrowash, Spondon, Long Eaton, Ilkeston, Sandiacre, Stapleford and Nottingham areas to maintain themselves for their sporting activities and the rigours of everyday life.

Whom do I treat?
My clients include Professional Boxers, Professional Footballers, Rugby Players, Joggers and Runners, Golfers, Archers, Teachers, Doctors, Nurses, Paramedics and other Therapists as well as the general public.

As well as maintaining your general well being below are just some of the common conditions I treat:

Back Pain including Sciatica: Strains: Bad Posture: Lack of Mobility: Tension.
Massage therapy can provide substantial healing and pain relief for many lower back problems. Specifically, for pain caused by a back strain, when the correct muscle is targeted, the pain can be controlled at its source for quicker and lasting relief.

Neck and Shoulder Pain Including Stiff Neck: Tension Headaches: Migraine: Frozen Shoulder: Stress: Rota Cuff Injuries: Bad posture:
Massage therapy and Reflexology are proven ways to improve many types of neck and shoulder pain,

Upper Limb Pain Including Golfers Elbow: Tennis Elbow: RSI: Carpal Tunnel:

Lower Limb Pain Including Tight Hamstings; Knee Problems such as Joggers Knee: Tight Quads: Plantar Fasciitis (Poilicemans Heel)

As well as the direct effect of treatments on injuries it is a valuable aid to increasing your general well being.By using a comination of treatments it can help with a number of these conditions including

Stress: Massage is an effective treatment to help decrease stress. it helps to decrease stress by lowering the heart rate, relaxing muscles and releasing endorphins it increases temperature in the body and promotes relaxation.

Anxiety: By lowering cortisol and increasing serotonin, you're boosting your body's ability to fight off pain, anxiety and feelings of sadness. The emotional balance massage provides can be just as vital and valuable as the physical benefits

Diabetes: Massage and Reflexology therapy can have several relaxing effects on the body, some of which could be particularly useful for people with diabetes.Studies have shown that massage therapy may help lower anxiety, stress and possibly blood pressure, all of which can increase your well-being. It can also stimulate the nervous system.

I offer my services as a Sports (Deep Tissue / Remedial) Massage therapist and Reflexologist to clients and local sports teams out of my clinic located at

The Elephant Rooms South Street Draycott Derby DE72 3PP
www.elephantrooms.co.uk


I also cover the following areas for Sports / Remedial and Holistic Massage and Reflexology Derby, Nottingham. Draycott and Long Eaton and cover all of the Derby, Belper, Borrowash, Spondon, Breaston, Ocbrook, Draycott, Oakwood, Toton, Sandiacre, Long Eaton .

People alway ask how and why I became a therapist so here is the answer.

Being Ex Armed Forces and participating in a wide range of sports at high levels both nationally and around Derby and Derbyshire my body was always in the best of conditions.

However as my age increased so did the injuries, the severity and recovery times.

I realised the body is just like any other piece of machinery and if it is not properly maintained then it would start failing.

It was recommended that I try therapy and was told about Reflexology and Sports Massage to be honest. I was very sceptical and searched Derby and Belper until I found a reflexologist I thought could help.

However, I found the benefits of having therapy myself both Sports / Remedial Massage and Reflexology were astonishing not only to my physical wellbeing but also my mental wellbeing.

By having these treatments I am still able to compete at sport and look after my health and mental wellbeing.